Commercial Refrigeration Repair
SoCal AC & Heating Repair Provides Exceptional Commercial Refrigerator Repair Services
Commercial refrigeration has been around for decades with highly intricate cooling systems that have long-since replaced the proverbial ice box. At SoCal AC & Heating Repair, we are factory trained, certified and expert in installation, repair, troubleshooting and designing commercial kitchens including the following brands:
True
Traulsen
Continental
Fogel
Hoshizaki
Maxx Cold
Randell
Migali
and many others.
Since then, these multi-brand commercial refrigerators now come with intricate circuitry to regulate temperature, maintain a perfect cooling ambient.
Restaurants, schools and other facilities with commercial kitchens depend on cooling and freezing systems to properly refrigerate or otherwise preserve ingredients used to prepare meals on a day-in and day-out basis.
When a commercial refrigerator is not working optimally or simply stops working, thousands of dollars in food can be lost or spoiled to the extent of endangering the health of consumers of this food and the food handlers themselves.
There is no time to waste when a kitchen staff worker becomes aware of a malfunctioning cooling device. It is time to call SoCal AC & Heating Repair at any time of day or night. We always have a commercial refrigeration team expert in the best commercial cooling brands available for dispatch to your location throughout the San Fernando Valley.
What Kind of Commercial Refrigeration System Does Your Facility Have?
Commercial Glass Door/Cake Cooler: Many restaurants and delis rely on the visual presentation of their foods so they incorporate use of display cases to showcase food to customers or as use for self-serve items. Some facilities use commercial glass door refrigerators in lieu of a walk-in cooler. They come with space-saving sliding doors, single or split doors.
Under-Counter and Work-top Commercial Refrigerators: These units look a little like chest freezers and come with a stainless-steel top that can be used for food preparation. These units are space-saving and makes it super easy to store food that has just been prepared. These under-counter units often come with single or double doors, cooling drawers or a combination of both.
Solid Door Commercial Refrigerator: These systems typically have solid metal doors that do not provide an inside peek at the food inside. They are typically adjacent to the cooking assembly where they can be easily accessed. They open to the left or right, depending on the cookline configuration or come with split doors and/or multiple doors. Many are stationary, however, smaller models come on rolling casters that lock into place where needed in the food assembly line.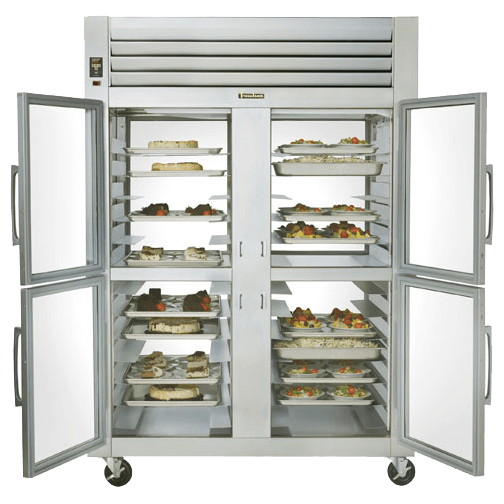 Commercial Dual-Temperature Units: As do residential units, commercial refrigerator/freezer combos can come with specialized functionalities – even an incorporated heating or warming compartment. These combos are frequently found where space is limited. Commercial combos can be configured adjoining compartment splits or stacked bottom to top configurations.
Commercial Walk-in or Roll-in Refrigerator: Kitchens that need to prepare larger quantities of food ahead of time typically use this commercial cooling solution that allows kitchen staff load and remove food stored in rolling trays or tray racks. Often, each section will have its own ramp while has its own ramp.
Standard commercial walk-in refrigerators are the mainstay for most commercial kitchens and come in a range of sizes suitable for most kitchen environments that may include outdoor units and other types of external coolers such as external ice storage and floral coolers.
SoCal AC & Heating Repair Is Only a Phone Call Away
Optimal refrigeration is critical to the food service industry. No matter what your facility's personal predicament may be, SoCal AC & Heating Repair is your go-to expert commercial refrigeration repair service provider when you run into a cooling emergency such as:
Loss of power
Inconsistent temperature maintenance
Improperly functioning lighting or thermostats
Worn out seals
When your commercial appliances need reinstallation, maintenance or repair, SoCal AC & Heating Repair is the top commercial appliance repair company in Southern California that offers a 100% guarantee on parts and labor and can typically provide same-day care.
Despite the rigorous quality checks that each manufacturer typically implement with their commercial appliances – after they have left the factory they are at the hands of many users – some professional and others less so. Like any other electro-mechanical device, your commercial appliance may require troubleshooting or tune-up. A quick call to a SoCal AC & Heating Repair dispatcher will ensure that a qualified, factory-trained and certified commercial appliance repair technician will soon be at your door.
SoCal AC & Heating Repair appliance technicians are commercially-certified by each manufacturer – all brands that hold SoCal AC & Heating Repair to the highest level of professional integrity. Our name equals our reputation of these find brands as we earn the reputation as Southern California's foremost provider of commercial appliance installation, repair and maintenance for groundbreaking commercial appliance brands.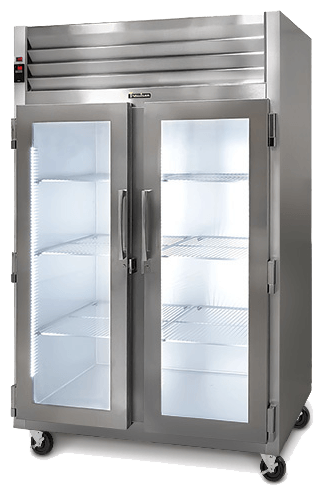 When you call SoCal AC & Heating Repair for your commercial refrigeration needs, rest assured of the following:
Our technicians are factory-trained in the most current, best-in-class practices
We provide no-surprise guaranteed pricing
Our team is continually provided with training and other educational opportunities
All SoCal AC & Heating Repair commercial appliance technicians are fully licensed, bonded and insured
Personnel at SoCal AC & Heating Repair has successfully undergone background and substance abuse tests
Maintenance vehicles are fully stocked with replacement parts and other resources
24/7 emergency hotline
At SoCal AC & Heating Repair, our specially-trained and certified commercial refrigeration technicians are highly esteemed professionals who apply best-in-class practices in installations, troubleshooting, commercial cooling system procurement and preventative maintenance. Our services are guaranteed and supported by a money-back guarantee.